Fabian Rieder is among one of the better talents coming through Switzerland, and after the U21 European Championship, everyone can see why. This Rieder analysis will leave you with all the answers you'll need to answer- What type of player is he?
He's now a 21 year old playing for BSC Young Boys, which already makes him a slightly older talent, but one thing is for sure, the talent is there. 

Country: Switzerland
DOB: 16/02/2002
Height: 5'11 (181cm)
Position: Central Midfielder
Preferred Foot: Left
Market Value: $16.2m (Transfermrkt)
He was born in Bern, Switzerland on February 16th, 2002, and joined his first academy until he was 9 years old. 
Rieder played for Koppiger until he joined his second academy, FC Solothurn in 2011. He developed significantly as a player there for the next 6 years.
Finally, in 2017, as a 15 year old, he joined BSC Young Boys academy. He rose through the ranks yearly until he made his first team debut in 2021.
Since then, Rieder has garnished attention for his play, and has shown it off in league and for the U21 Switzerland team.
As a player, Fabian Rieder is a midfielder that often likes to be involved in the attacking side of the game, but likes to check back and get the ball to his feet. 
Last season alone he had 7 Goals + 4 Assists in 33 matches played for BSC Young Boys. You can tell from his heatmap that one of his strengths is his ability to strike the ball beautifully. Interestingly enough, someone like Alex Baena has an interesting positional sense!
One of the things he tended to do in most the games seen, was drop deep to pick the ball up and play a long switch from left to right. You can see in these frames how deep he drops, and how perfectly he drops the ball into his teammates path.
He tends to love these long switches as his main passes from deep. It is an asset to whatever team he plays on to be able to have a trent-like passing. 
Winning the ball back + starting attack
In this phase of play the opponents are breaking into attack mode, but Rieder slides over to win the ball back using his physicality. Once he wins the ball back he immediately charges towards the defense.
He has two options. He can either play the ball into his forwards feet behind the opposite 6, or lay it laterally. The former was the right answer for him as he played the pass and continued his run.
Even though they didn't score from that sequence, it's a promising play that shows his football I.Q. It's so easy for an Rieder analysis because quite frankly he's loaded with promise.
Transition from defensive third to attacking third
If there was a way to exhibit why Rieder likes dropping back to receive the ball at his feet before launching an attack it's this one. He drops all the way into his own penalty box to take the ball off his defenders, and what happens next is remarkable. 
He sees a gap big enough for him to carry the ball progressively through the opponents midfield. They allow him enough room to get past 2 defenders and play a ball into a gap on the wing.
The pass that completes the sequence is well placed and just like that Young Boys are in the attacking third. Rieder offers such a good progressive mindset that it makes sense why he can play an attacking midfield role.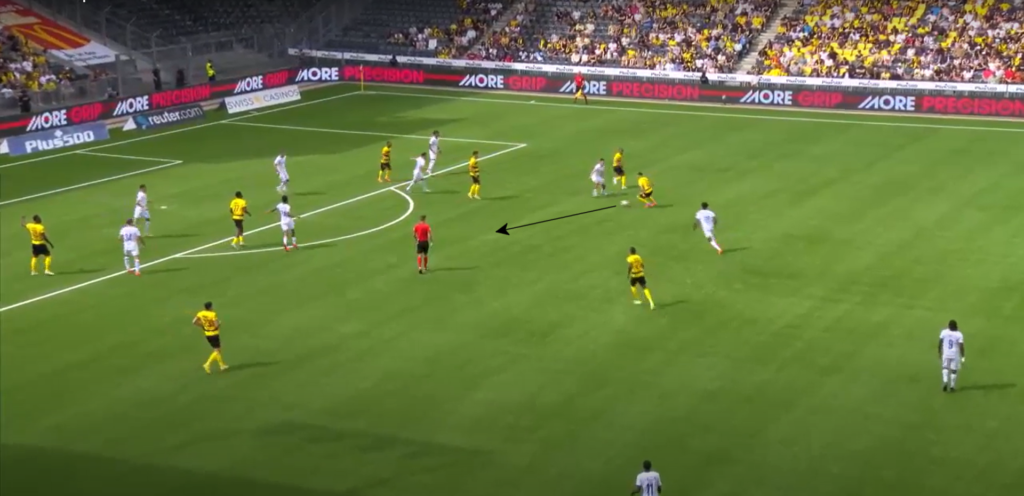 The situational awareness Rieders has in moments of his game is honestly so very good. In this instance his teammate is looking for support so he checks in. Just like he is supposed to, his first touch is directional, progressive, and into space. It's a fantastic mindset to have for such a young player.
That, and since he is used to taking his first touch into space it proves that likely he is aware of his surroundings constantly. It bodes well for a future transfer to a league where he may have less space.
The last thing to mentioned for Rieder is the way in which he is running around like a motor engine. He's constantly covering loose ends all over the field, and this is a prime example to show off his work rate.
In this sequence Rieder notices a player making a run from deep behind him into an open space behind his left back. Instantly Rieder recognizes this as his duty, and drops back to cover the man running into the box. The man gets played in behind, but luckily Rieder tracked him and was able to clear the ball from danger.
This isn't the only instance, but it's worth mentioning that he can clearly hold himself up when it comes to his midfield duties all over the field.
Rieder's Style of Play conclusion
It's no secret anymore that Fabian Reider is seriously good enough to rip up the league this season. The left footed midfielder offers poise to create chances, and he's started the 22/23 season off strong.
Final Fabian Rieder analysis:
Has an immense vision for cross field switches from deep in his own half
Will play the ball whichever way he is facing 90% of the time
Has an engine built for covering all over the field
Offers good set pieces on both corners and free kicks
Enjoys playing a progressive pass then overlapping
Needs to constantly be involved = a lot of touches each game