Bournemouth have stole 19 year old left back Milos Kerkez from under Lazio's nose. They had agreed personal terms, but Bournemouth were quicker and were able to secure his abilities for around $16m. Bournemouth have been in a tear this window, and it continues with this signing. This Kerkez breakdown will tell you everything you need to know for the upcoming season. 
Milos Kerkez (born 7 November 2003) was actually born in Serbia, but ends up playing for the Hungarian national team. He said his father and grandfather were Hungarian, so it was never a doubt for him. Kerkez played for Austrian side Rapid Wein from 2014-2019, then joined Gyor. A year and a half later he signed for Milan, but things never worked out so in 2022 he joined AZ Alkmaar. He's since been successful, and played competitively for his country, and yet he is only 19!
What type of player is Kerkez?
Milos Kerkez is a 5'9 (1.80m) left back who enjoys running upfield in attack, similar to a Theo Hernandez who he backed up at AC Milan. He was a midfielder in his youth which may explain why he is so good further down the field. He hasn't been injured yet in his career, which bodes well for the grueling intensity of the Premier League. Let's breakdown his strengths and weaknesses specifically.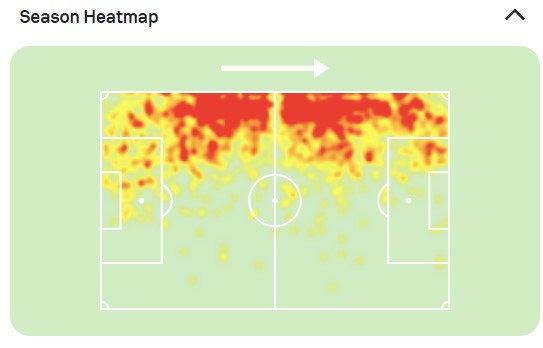 As we mentioned previously, what makes Kerkez unique is his ability to roam upfield and support the attack. Last season in 33 games played he managed to grab 3 goals, and an assist all from left back. One of his biggest strengths happens to be his chance creation. Although he only had one assist last season, he was in the top 10% of all defenders in progressive passes received. He received almost 7 of them per game, which for a team like Bournemouth could be extremely useful up field. I can imagine the Kerkez – Kluivert linkup already.
Kerkez is also an above average dribbler, especially when it comes to being challenged. He's one of the best in the Next 8 at carrying the ball upfield, and evading challenges. It seems like Bourneouth's new manager has a plan, and I'll be very interested to see how Kerkez is used in attack.
Kerkez's defense is very average
Kerkez has made a name for himself upfield, but when we take a look at his pure defensive stats compared to other wingbacks, he definitely could use some help. Kerkez is not much of a ball winner at all, which I'm sure Bournemouth will prepare for. He's in the bottom 30% in the Next 8 for both Tackles, and Interceptions. Yikes. It could be simply a tactical reason why he isn't a ball winning machine, such as Trent Alexander-Arnold, but we say be prepared for an average defender, and a great attacker.
Overall conclusion of Kerkez's Breakdown
Seeing as Bournemouth seem to be really aiming for the stars this season, I think Kerkez is going to end up being a great signing for them. As long as they play with cover for him when he roams up, if not expect a very leaky defense. We wish him all the best, and will keep an eye on him. Be sure to check out all of the signings Bournemouth have made here.
(For fun, here's his stats compared to other premier league wingbacks)