Edmond Tapsoba is a 24 year old center back for Bayer Leverkusen, and he is very very good. Standing at 6'4 (1.9), he is a dominant force that most attackers in the world wouldn't want to face. Even better, he is extremely composed on the ball, and is one of the best centerbacks in the world in possession, and out of it. Transfermrkt values him at $33 million, but we are sure it may take a bit more than that for his talents. 
Tapsoba was born in Burkina Faso on February 2nd, 1999. He was scouted at 16, and he jumped around academies until he landed at Vitoria in Portugal. He turned them from a mid table team, to a top-six team, before departing to Leverkusen for around $22 million in 2020. Since then, he has hunkered down well, and made the position his own. 
Tapsoba is a 6'4 (1.9) tall center back that can play on both sides of the field. Edmond is right footed, but very impressive with both feet. Last season Tapsoba played the most minutes on the team for Leverkusen, which shows how much Xabi Alonso relies on the player. He can initiate plays all the way from his third, and is actually one of the best centerbacks in the world at it. We are going to break down why anytime that signs him, is buying into the next era of centerback's completely.
Tapsoba in possession is good as gold
Edmond Tapsoba is a good defender, but an even better distributor of the ball. One of his key strengths is that he is able to control the tempo of the game so well, from deep in his half. Tapsoba averages 5 passes into the final third A GAME, which is the top 9% in the top 5 leagues. Furthermore, not just his progressive passing is elite, but his all around game. He stayed around 88% pass completion last season, which is just so so so good.
Tapsoba is also good at carrying the ball up field from wherever he is. He carries the ball effortlessly, and more than half of the time he is bringing the ball up field. He is crucial to Leverkusen's build up even if he is starting it all the way from the back.
Tapsoba defensively = enough
Tapsoba in defense stands at 6'4, which of course makes him a towering center back, capable of playing in any league in the world. Although he has only managed 7 clean sheets in 33 games played for Leverkusen. He is a player that would prefer a low line, due to his ability to win aerial duels, and be a nuisance to all attackers. The centre back is a above average tackler, but other than that there isn't much that makes him stand out. He could jokingly play as the no.6 for any team around the world. (A joke…..but maybe?)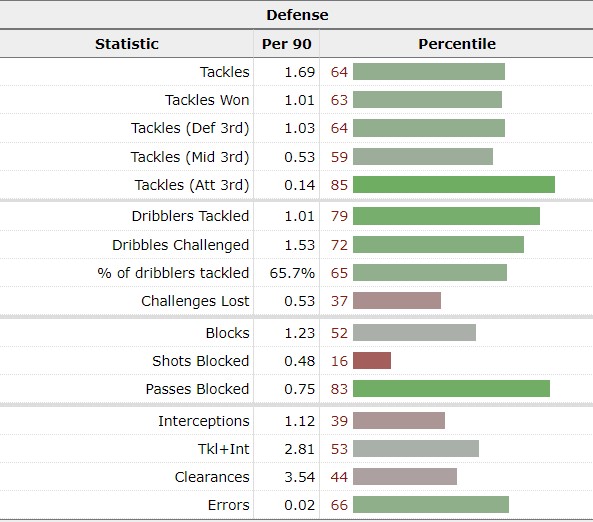 Tapsoba and what's a good move
Edmond Tapsoba has got to be a good move for almost every single team in the world. A super fun link for him would be a move to a team like Liverpool to rejuvinate their declining defense. Realistically, he would be ok with another season at Bayer Leverkusen, but a Premier League move is being rumoured. Specifically, Fabrizio Romano mentions that Spurs have made him their number one target. Overall, his comparison could be like Kalulu, or Lukeba.
Another player in a similar position is Manu Kone, who is a young Bundesliga player, looking for a transfer out, or staying one more year. Read about Manu Kone here.