Everything you need to know about Lavia
     Romeo Lavia was born in Brussels, Belgium on the 6th of January 2004. He plays midfield, but more specifically he has found a home in the defensive area of the game. In his youth he played for Anderlecht in Belgium where he was a standout enough player to play for a International youth tournament set up by Kevin De Bruyne. It was actually KDB who invited Pep Guardiola to the tournament which eventually led to Lavia being noticed. 
     When Lavia was sixteen he left the Anderlecht academy to sign for Manchester City, where he quickly impressed on the U18 squad. He was so good, they promoted him to the U23 squad after 11 games into the season. He ended up winning the Premier League 2 with that squad, and was even nominated as the "Player of the Season"  by April 2021. In the 21-22 season, Lavia made it into the first team Champions league squad, and made his debut in the EFL cup against Wycombe Wanderers. In the next transfer window, Romeo Lavia was sold to Southampton FC for around $15 million, with a $45 million buyback clause after 2024, and a 20% sell on clause.
How was Lavia at Southampton?
     Romeo Lavia signed a 5-year contract when he joined Southampton in 2022, but to this day he has only fulfilled 1 year of his contract. He played in 29 games last season, and ended the season with 1 goal and no assist. Southampton ended up getting relegated with an abundance of young talent, but no real game plan to go with it. During his time at Southampton his Transfermarkt value went from $27 million to $34 million.
     We will take a look at what he did so well, and what he did poorly, in every aspect of the game. Then we will truly know what type of player Romeo Lavia is. 
     Although he didn't necessarily have a ton of output this season with just 1 goal in the Premier League all season, that doesn't mean he isn't participating in the attacking side of the game. Southampton scored just 36 goals all season, which is good for 19th most in the league. When it comes to Lavia there are several interesting moments where he is extremely strong compared to other midfielders, even in such a poor team. 
     When it comes to chance creation, and being a positive influence for the team, Lavia is essential to the build up to whenever his team scores. For instance, when it comes to "Defensive actions that lead to a goal", he is in the top 6% of all midfielders in the top 5 leagues. This is an immense example of how a defensive midfielder is still crucial to the attack, but apparently it wasn't enough for Southampton.
     Another strong aspect to Lavia's game is his ability to progress with the ball, and his ball control in general. He manages to only get tackled white attempting take-on's 26% of the time which is better than 86% of midfielders. He attempts around per 90, and is sucessful 56% of the time, which puts him relatively above average.  
The last thing we want to mention is how outrageously good his passing numbers are all over the field. His passing completion percentage for short (90.8%), medium (91.3)!, and long (73.1) passes are all well above the average. It's always a great sign when your midfielders aren't carelessly passing the ball away. (Short = between 5 and 15 yards, medium = between 15 and 30 yards, long = longer than 30 yards)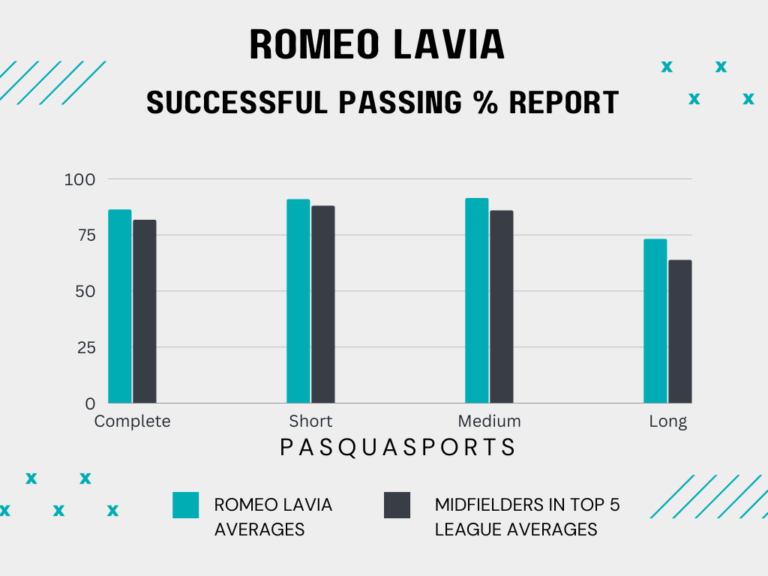 Although he does have plenty of strengths in attack, that doesn't mean he doesn't have weaknesses that other players may need to cover. When it comes to pure shot-creating actions / 90, he averages only 1.66  a game. That being said, his role isn't necessarily to be the final pass, but rather the transition player or the ignition to the buildup of a goal. 
     While this isn't necessarily attack, he does get dispossessed a lot when it comes to their possession. He get's dispossessed 1.26 times a game which puts him among the worst in the top 5 leagues. That is a serious problem that he needs to work on or else he may become more of a liability to whatever team he plays for. 
     The last problem is that for someone with great dribbling ability, and seemingly fantastic passing accuracy, he isn't getting on the ball enough. He gets about 50 touches per 90, which is just plain average. Like we previously mentioned, he has so many talents, that it's a disservice how much he isn't getting on the ball to make a stronger impact on the game. 
     Theoretically, this is where we should see a lot more of his true strengths, and we certainly do.  The defensive midfielder has proven that he has the ability over the course of his last 29 games for Southampton. He was able to consistently win the ball in his own defensive 3rd, the midfield, and less so in the attacking 3rd, all year long. He is among the 20% best midfielders for tackles in each of those zones, except for the attacking third where he is near the bottom 20%.
     Furthermore, he averages an insane amount of blocks per 90. He has 1.9 blocks per 90 mins, which puts him in the top 4%. This is one of his strongest traits by far, and proves why he is such a trusted defensive midfielder. Lavias blocks and tackling prowess are the main reasons why he averages 7.58 ball recoveries a game! He is the definition of a clog in the midfield, and it's no wonder Pep signed him so long ago. 
     The last thing we wanted to mention about Lavia is that he still manages to draw in a high number of fouls. It's an important skill to make sure when you win the ball, your team remains in possession. Almost twice every game, Lavia is winning fouls for his team, allowing Southampton to control the game better. 
What does he need to work on:
     While Lavia is strong on defense, there are some things that he didn't thrive in during the 22/23 season with Southampton. The most notable problem with his gameplay is that his tackling numbers are high, but his tackling success rate is low, which is not good….. He attempts to challenge a tackle on an opposition dribbler only twice a game, and will only come out victorious 40% of the time. This is a flawed part of his game because even though he has a high volume of tackles, evidently against dribblers his success rate isn't so good.
     Another part of his game he needs to work on is his card accumulation. He led Southampton last season in Yellow cards, and that led to some missed games through suspension. In fact he averages a yellow card not even every three games. We all saw how important the defensive midfielder was through Casemiro repetitive absences last season. The last thing to mention is that although he's only had one full season, he could work on his positional awareness. It seems that maybe he struggles locking into his position, and developing his in dame knowledge for where he should be on the field. 
The Romeo Lavia Analysis is over, and hopefully you either learned something about the talented midfielder or at least became aware of him. Although he's only one year into his contract with Southampton, it seems he may be on the move again. There are some big clubs interested such a Liverpool, Manchester City, but so far at least a transfer continues to be the highest likelihood of happening. The biggest turn off right is most likely the $56 million price valuation Southampton have set for him,  but in due time someone will meet the valuation.
(As a bonus, since he has been playing in England for three years, even though hes Belgian, he will count as a Homegrown Player when he gets to the age of 21)