The 24 year old American has been injured since the end of last season, but yet teams still want him. He was one of Lees United's best players, and because of their relegation, he's available for just $25m. Tyler Adam's has been receiving interest from Chelsea, Liverpool, and most recently Bournemouth. This will be the last Tyler Adams analysis that you'll need.
Let's begin. 
Tyler Adam's was born in Wappingers Falls, New York, and was a part of the New York Red Bull's setup from the age of 11. He was promoted to the first team in 2016, and just three years later he made the jump to RB Leipzig. After some up and down years he joined Leeds and was great until his hamstring injury. He also captained USA at the 2023 World cup, which was seen as a success for USA. 
Tyler Adams is a ball winning hawk. He has such a tenacity for hunting the opposition down, that it is no doubt he is a classic defensive midfielder. Last season he played in 24 full matches for Leeds, and up until that point Leeds looked like they would survive the relegation battle. After his hamstring injury Leeds fell apart defensively, and the correlation is easy to see. 
He covers the entire field from side to side, and from top to bottom with the "American" fighting spirit. He hasn't shown off an amazing ability to play progressive passes, or be a goal threat though. For now his main purpose is to be a ball winner.
Tyler Adams was one of the best ball winners in the top five leagues last year. In a season where Caicedo, Lavia, and others existed he puts them to shame when just speaking about defense.
Last season Adams was:
 3.64/90 (98th Percentile)
2.05 Blocks/90 (97th Percentile)
1.5 Interceptions/90 (84th Percentile)
2.05 Dribblers tackled/90 (99th Percentile)
The no.6 boasts some of the best numbers in the WORLD compared to other midfielders. The release clause of just $25m looks like a bargain.
On the other hand, what we are seeing is a a lack of forward game for Tyler Adams. He's such a good player off the ball, but maybe mediocre on it.
His passing is relatively just above average, with his short passing being decent. It's at least a good thing that he isn't losing the ball too often,
One thing to take a look at is that he manages 5.97 key passes/90, and 4.83 passes into the final third/90. He is doing decent enough at creating chances in a rather poor team.
Lastly, he just doesn't seem like a progressive dribbler. He is low among progressive dribbles, successful dribbles, and little to no goal threat.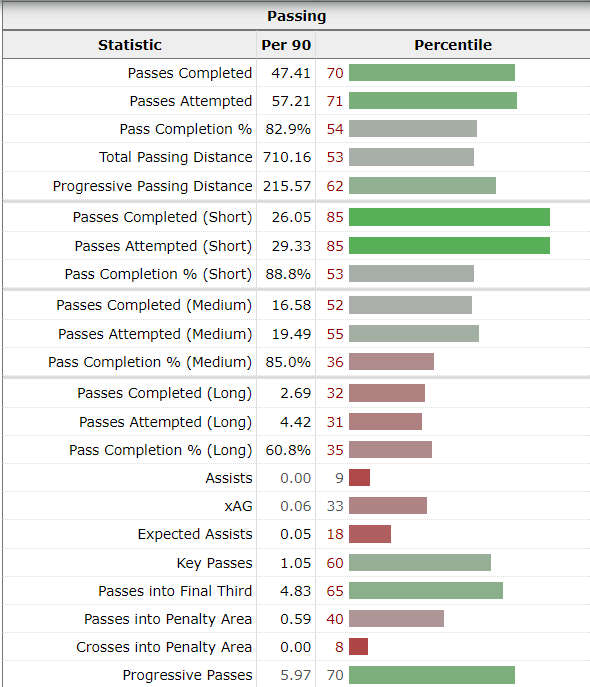 Overall, Tyler Adams is one of America's best players, but also one of the Premier League's best defensive midfielders. He is primarily a ball winner, not a chance creator/finisher. For just $25m you can't pass that up, and we are pretty certain he'll be on a new team come the end of the window. 
That is all for the Tyler Adams analysis, and thank you for reading. 
Last thing we will leave is a chart of Adams vs Caicedo vs Lavia. Considering their prices it's interesting isn't it….