Antonio Nusa is a Norwegian star boy in a team full of a rising star generation. We know of the Erling Haalands, Martin Odegaards, but just behind them could be Norway's best. Nusa made his Norway debut this September, and boy did he impress with his skills to take on multiple defenders, find a cross, and finish.
Let's do a complete breakdown on Antonio Nusa, and why he is so well spoken about. 
Antonio Nusa was born (April, 17,2005) in Langhus, Norway which makes him only 18 years old! He played locally during his youth, and even made a played for several Norwegian youth academies including Staebak.
In 2021, Club Brugge signed him from Norway for just about $3.5m. Since then, he spent last season making bench cameos, and now starting every game this season. 
He made his Norway national team debut competitively during the Euro qualifiers, and he's already got two assists. 
Antonia Nusa Style of Play
Antonio Nusa is a speedy left winger who likes to have the ball at his feet and take on players. His strongest traits are his dribbling, and his ridiculous eye for goal.
So far this season for Club Brugge he has a goal and an assist in just 4 games. He's also managed a MOTM performance in Euros Q. against Georgia with 2 assists.
Nusa is a player that seems to bringing flair and skill back to the winger position. Just like Johan Bakayoko on the other wing, the new generation is exciting.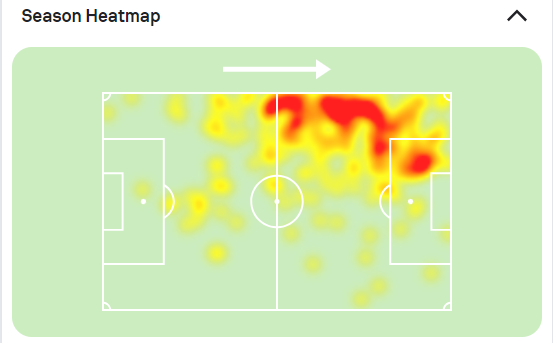 We wanted to go over the strongest aspect of his game which happens to be dribbling first. He is a menace on the ball, causing all sorts of problems for defenders that have to mark him. 
Antonio is a right footed left winger, which means he likes to cut the ball inwards and either shoot, or pass. He often combines for 1-2 passes along the wing, and has already scored some bangers. But we will get to the bangers later. 
In this sequence he is checking in along the byline to get the ball from his defender, and by the tome he gets the ball he is being closed down from two sides. He manages to meg the goal side defender, and evade the double press. Nusa has skills that make him one to watch. 
Once he beats those two defenders he already has another problem. He has to stretch to reach the ball, but instead he body feints over the ball which sells the defender to another planet. It's a brilliant piece of skill from Nusa that shows his toolbox when it comes to dribbling. 
The most important development from Nusa is that he has end product. It's always nice to have players that are great in possession, great in attack, but you need end product. Nusa is a great playmaker, and is very clinical in front of goal, even with defenders in front of him. 
In this exact sequnce he charges the corner of the 18 – Yard box with the ball, dragging in three defenders. Next, he cuts the ball infield with his right foot away from the defenders. 
While being on the backstep he manages to lift a curled effort to the far corner in a brilliant goal. The concern is that he made it look effortless. How can a kid with so little gametime, be this good. Wow.
Antonio Nusa has skills that have been a joy to analyze because he simply is a breath of fresh air. He is bringing back some early 2010s football (soccer), that makes the sport look fun. The scariest part is that Norway seem to be breeding these guys in labs. Potentially, maybe it's all of the Scandinavian countries.
In conclusion, the kid is a baller, and you've seen how. Keep an eye on him in the Pro League with Club Brugge, or with Norway in the Euros Qualifiers. It'll be a treat for your eyes I'm sure.