Tijani Reijnders is finally joining AC Milan for $22+ million  add ons after AZ and Milan had a long negotiation saga. Reijnders even said today that after his first call with Milan he was thinking "Forza Milan!". So what style of play does Reijnders have, and what can he offer to a squad that is looking to recover from losing one of the best young midfielders in the world. This is the Reijnders analysis that will tell you everything you need to know.
     Tijani (born July 29 1998) in Netherlands with a dad who already had a professional career. He started out in the FC Twente youth academy until he got released when he got to the U-17s. Instead of quitting, he bounced around academies until he made his first Eredevise appearance for PEC Zwolle. He transfered to AZ Alkmaar in 2017, and mad his first appearance for them a year later. After one loan move, he returned to AZ Alkmaar and has been playing consistently for the last three years. Most recently, he received his first international callup in June 2023 to play for the Dutch in the Nations League Finals.
     The 24 year old midfielder has been gathering a lot of attention, so it's no secret he has the ability to back up the talk. Reijnder play's primarily as a central midfielder that is given the same responsibilities as a typical number 8. He is a player that can quite frankly help out everywhere on the pitch. He stands at 1.85m, and primarily uses his right foot. We will analyze exactly what he does in attack, and in defense, and how this will effect Milan.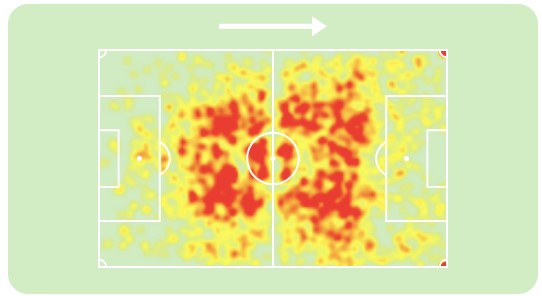 Reijnders attacking abilities
     Reijnders is coming into a Milan team that typically played a formation close to a 4-2-3-1 last season under Pioli, which means he will most likely play one of the 2 defensive midfielders who can pivot upfield. He will certainly be able to help out from deeper in the team considering he averaged 2.9 progressive carries a game. He can not only bring up the ball from deep, but his passing accuracy was 87% last season which puts him among the best. 
     HIs actual input into pure attacking chances also could be a solution to diversify Milan's attacking chances. He had 7.18 progressive passes, and 1.9 key passes per 90. There is so much talent, that it's hard not to like this move from Milan. He ultimately finished with 3 goals, and 8 assists in 34 league games last season.  
All of these stats are provided by Fbref. Percentiles are based off of Top 8 leagues AFTER the top 5 leagues. 
Reijnders defensive analysis
Although he plays as a box to box midfielder, he isn't as well known for his defensive efforts. He does fairly well at sniffing out immediate danger which leads to some interceptions/blocks every game, but there are some things he can work on. He is weak when it comes to tackling and being a true ball winner, so in order to work a Milan, there will need to be another midfielder playing behind him as cover. Luckily, with RLC, potentially Musah, Pobega, Krunic, and eventually Bennacer, hopefully someone that fit into that role. 
When it comes to how Reijnders will actually fit into the Milan team, I think the we all know the midfield is one of their biggest concerns. If Pioli decides to use Pulisic as the new #10 that means Reijnders will have to play as the box to box as a double pivot with a better defending midfielder. 
     There could be some comparisons drawn to Adli, who was an exciting midfield signing that never truly got a chane for some odd reason. It seems like Pioli just truthfully did not like him, so we can hope that doesn't happen with Reijnders. There is a great fit between Reijnders and Bennacer, but unfortunately until Bennacer returns from injury, there will have to be a replacement. Reijnders style of play means whoever it is, they will need to be a ball winning player. 
     Overall, it looks like smart business from Milan, but they still need to sign a midfielder who will truly be able to fill Tonali's shoes. Perhaps they should take a look at the list I made for Liverpool fans.