Johan Bakayoko is only 20 years old, but has been surrounded in transfer saga for the better part of the year already. His silky play style at right wing has earned interest from all sorts of teams in the PL, Serie A, and more. There's a reason PSV want to keep him so badly, and it's because he's the next big talent that they've managed to produce.
We will go over everything that he is statistically good at, which happens to be a lot, and the eye test. What a player the world is about to see more of.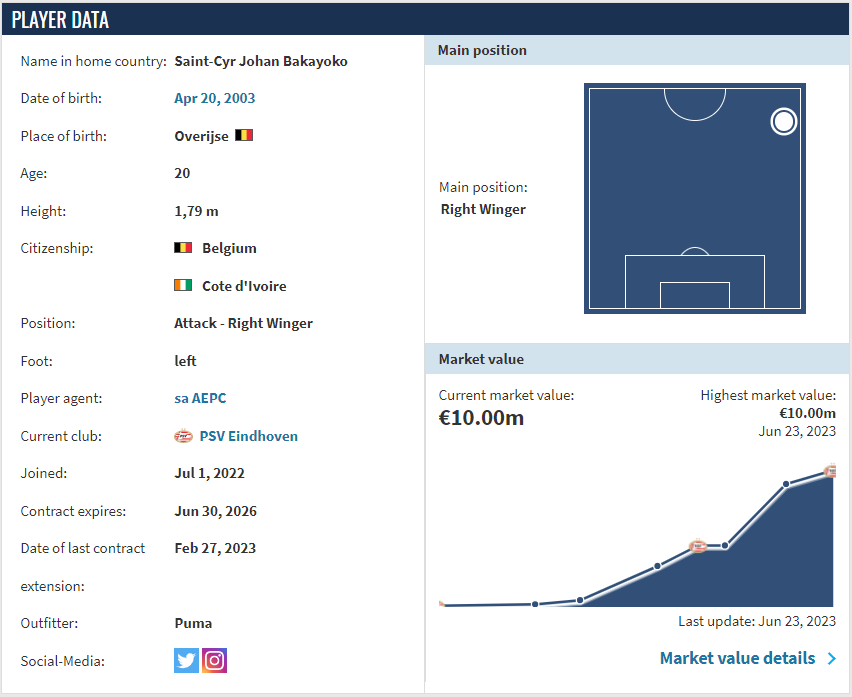 Johan Bakayoko was born in Overijse, Belgium on April 20, 2003 to named as Saint-Cyr Johan Bakayoko. 
As a youth player, Bakayoko impressed which is why he managed to play for both Club Brugge, and Anderlechts youth academies. In 2019 he made the move from Anderlecht to PSV at 16 years old.
Ever since then he has been quickly rising through the ranks until Ruud Van Nistelrooy called him up to the first team. He hasn't looked back since. 
The Johan Bakayoko Analysis
Johan is an out and out right winger who likes to exploit his left foot strength over left backs. He has a similar strength as Salah, but plays like Sadio Mane.
Last season in 23 games played, he finished with 5 Goals + 5 Assists for PSV. Considering it was his first full season… Impressive.
Extremely well trained in possession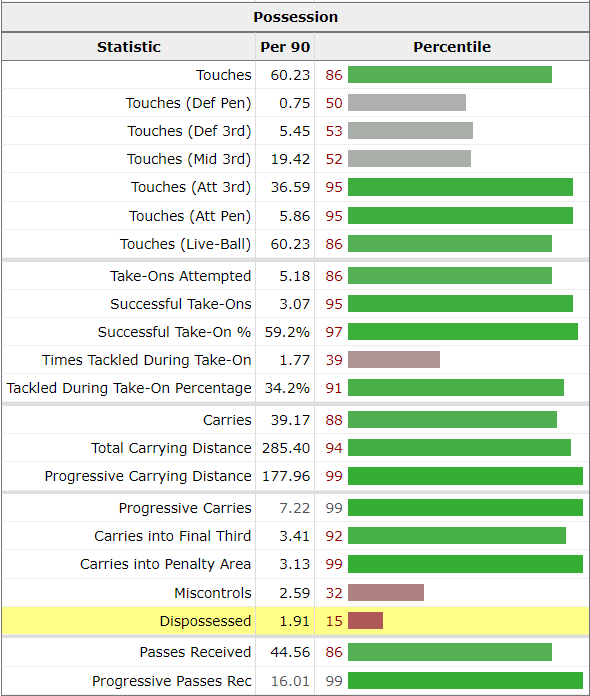 One of the biggest strengths to his game is how good he is with the ball. 
He is quite simply one of the best young dribblers I've seen in a while. According to Fbref, he wins take-ons in the 97th percentile (59.2%). He also statistically has the most progressive carrying distance compared to any wingers in the Next 8 leagues. Wow.
He is so dangerous when he gets the ball with the back to the sideline. Johan has a unique way to keep defenders on their toes with his diverse skillset.
He chooses to either blast past players with his speed, or cut into the middle and take a technical dribbling approach.
It's also a great sign that he get's so many touches a game, which shows he isn't phased out often. 
Works very well in some tactical setups
As a right winger it's important that you know your role in whatever team you play for. HIs role is to be the playmaker for PSV.
When it comes to assists he averages an assist .34/90 which is an elite rate. He is also playing passes/crosses into the penalty often enough to be a constant threat.
The only slight worry with Bakayoko in this department, is that he is prone to losing the ball sometimes. His passing accuracy is rough above 10 yards, and he has a lot of miscontrols.
Additionally, it's worth mentioning that his end product is strong, and getting stronger. 
He finishes with a relatively lethal rate, and it doesn't seem a fluke.
It's hard not to like everything you see about Johan Bakayoko. He has so much prowess when he is on the ball, that I truly think he will become one of the world's best wingers soon enough. His ability to not only benefit the team attacking, but be a pressing monster will carry him far.
The rumours recently have been linking him to the Premier League, and a move is likely to come for him this window. We wish him the best, and believe that as long as he is getting game time, he will thrive. 
Thank's for reading, and make sure to check out some of our other analysis pages on other wingers!