Carlos Baleba is the 19 year old midfielder that seems to be on the radar of multiple Premier league teams. He says that growing up his three main idols were Pogba, Kevin De Bruyne, and Thiago which makes sense after analyzing his style of play. We can assure you that this will be the last Carlos Baleba analysis you'll need. 
Baleba started out his career at Futur Soccer Club Fc in his home country, Cameroon. Then at the age of 13, he made a move to Ecole de football du Cameroun academy Center. 
He played there until the age of 18, when he made the move to join Lille in France. He played with Lille 2 for a season, then in 21/22 he played in 19 League games.* 
(19 Games played with a total average of 26 minutes played a match)*
Like we mentioned previously, Baleba is being evaluated on a very small amount of minutes played so far. In fact, he only actually started 5 of those 19 games he played in.  He does well to cover the middle of the pitch, and likes to be the lynchpin for his team.
The reason he was promoted to the first team was because of his stamina, technical ability, and his progressiveness. He likes to press and nick the ball off opponents and progress the ball that way. He seems like a perfect role player that would add balance to some midfields. It doesn't hurt that he's a lefty either.
He's extremely progressive with the ball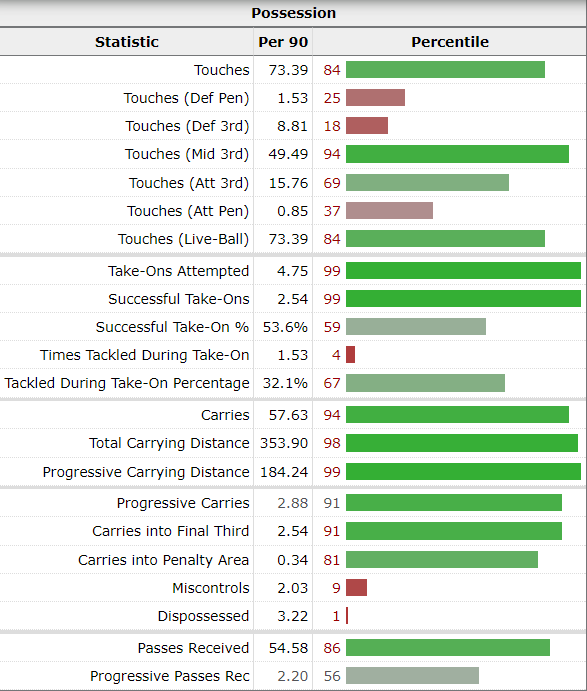 Just like we mentioned before, he is so progressive with the ball, it is like second nature to him. He quite literally is one of the best midfielders in the world at carrying the ball anywhere, and up field. 
Additionally, he isn't someone that is scared of the ball which we know from his 73 touches per 90 with limited minutes. Something we'd like to see improve is his availability in receiving the ball in his half. 
Baleba can also probably work on his miscontroll/mistakes. It is very costly when one of the initiators to every play is prolific at losing the ball.
There are high high's and low low's defensively
Then when we do an analysis of his defensive ability it feels like thing's are up and down. 
He averaged:
2.88 Tackles (88th Percentile)
2.03 Tackles Won (96th Percentile)
2.2 Blocks (99th Percentile)
1.69 Passes Blocked (97th Percentile)
.51 Interceptions (8th Percentile)
.34 Errors (1st Percentile)
Like we mentioned, at some things such as winning the ball he is second to none. At other things he needs to work massively to become a complete guardian of the back line. 
In this Carlos Baleba analysis we have learned that whatever team get's him is going to be investing on more than just hope. The most recent transfer link is Brighton which is no surprise because they seem to always know which wonderkid to sign next. Additionally, a team such as Liverpool could use a player like him.