Mike Tresor is a 24 year old Left Winger who has been tearing it up for Genk last season. He play's with so much creativity that it makes it hard for any defenders to figure out how to stop him. Tresor has skills similar to Johan Bakayoko, but his output is complete. This is the complete analysis you'll need to understand what he will bring to Burnley. 
His career path to get here
The Belgian winger was born May 28, 1999 in Antwerpen which is home to Mike Tresor Ndayishimiye. 
He spent most of his youth in the Anderlecht academy before being released at the U21 level. After bouncing around some clubs he ended up at Genk in 2021.
Last season he enjoyed such a successful stint in the Pro League, that he earned a move to Burnley.
Mike Tresor's Style of Play
Mike Tresor is an explosively creative winger for whatever team he plays for. He has the ability to roam up the wing, but also across the field to become a menace.
Last season for Genk he finished with 8 Goals + 24 Assists in 39 games played. Talent. 
Unlike some of our past articles, we don't have the percentiles, so we will do a eye test analysis.
Mike Tresor is a player that self proclaims to be meant for the No. 10 role in an interview with Transfermrkt. He has the tendencies to come from his wing and create plays for his teams.
In this specific instance he plays a ball inside before darting behind the defender into the box. He comes out with the ball on the other end of the pass and ultimately put's a cross in for his teammate.
The natural killer instinct to charge into the box is what can break teams down in just seconds.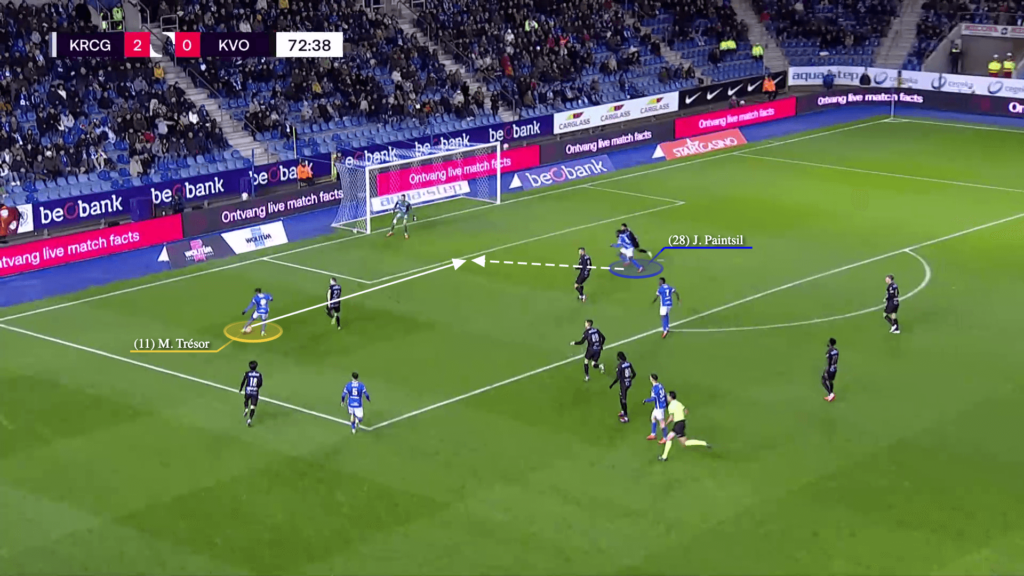 The part of his game that truly sets him apart is his creativeness. He's one of the best I've seen from the Pro League at creating chances. There was a reason he won Player of the Season last year. 
In this sequence we can see Tresor playing a slightly skewed No.10 position. He picks up his head and plays a perfect lofted pass in behind the already deep back line.
The ability to unlock all types of defenses is exactly what gets you big moves in todays game. Although he won't break down many low blocks at Burnley.
In conclusion it's easy to se why Burnley invested in this man on a season long loan. This is a move that could end up being the difference in the relegation battle, but with low risk. 
He's 24 which is still young contrary to what many people think. He has room to grow, and will grow. Keep an eye on him for Burnley after the international break. He could be a game-changer.
All in game frames are from The Athletic.