Warren Zaire-Emery is only 17 years old, and he already looks like one of the best French talents to come out of PSG. The 1.78m (5'10) tall midfielder has been captivating scouts since he's made his debut for the French champions, and it's no puzzle seeing why. This analysis will break everything down from his past, to his strengths, and to his player comparisons. 
The Frenchman was born (March, 8. 2006) in Montreuil, France to parents of French/Martinique citizenship. 
While playing for a local team in Aubervilliers, it was clear he was far too talented and was eventually scouted by PSG in 2014.
He quickly rose through the academy, often playing one or two age ranks higher than he should be. At 15 he got called up to the first team, and at 16 he played in all major competitions. 
ZAire-Emery Style of Play
As a midfielder for PSG, he holds a lot of responsibility in connecting the defense to the star powered attack. He does just fine, and plays as a composed CDM/CM that can turn and start attacks. 
This season so far he's already started the first three games of the season, which bodes well for the rest of the season. 
We are going to go over his strengths, and explain why the whole world is watching his potential.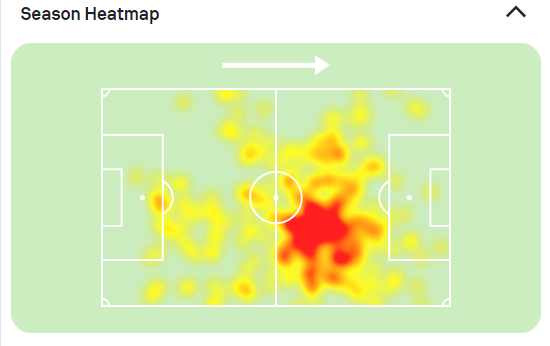 He's a passing savvy midfielder
As far as a midfielder goes, typically you need a mature player to not make too many mistakes. Luckily for PSG, Zaire-Emery is mature years beyond his age.
In all three lengths of passes he is extremely accurate with an average of 91%. That's good enough rate to be put against the most accurate midfielders in the Top 5 leagues.
Sure, he may not pass the ball long at all, but it's good he's typically accurate. Also, the reason why he doesn't have so many long passes is because he typically carries the ball himself.
Apart from that though, he isn't necessarily the guy that is going to play the final through ball into a strikers feet before scoring. Instead, he's more like a pass before the pass player.
In possession he's ice colf
It's hard to stress that he is quite truly the most mature 17 year old we have ever seen. Even on the ball in possession, he is exceling compared to his peers.
Zaire-Emery is constantly checking in as the deepest midfielder to pick up the ball, and then turning and carrying the ball. He likes to take people on, and certainly likes to dribble up field. 
Almost half of all of his carrying yards, are progressive. It's hard to imagine how he got these positive traits so early on, but his dad being a retired pro could help. 
He plays strong physically, but rarely ever sees himself punished for it. Zaire-Emery will hold up his end of the deal no matter which team has the ball. 
Player Comparison with MacAllister
Warren Zaire-Emery Conclusion
The French midfielder has already started this season strongly for PSG, but maybe let's not jump the script. He's a talented boy who has impressed tremendously in his limited starts. 
My only worry is that he has the potential to get lost in what seems to be a very dramatic team environment. It's extremely important they protect this kid because he very well could be one of the best midfielders in the world come a few years. 
It's not shocking either because France have once again started to show signs of an extremely promising generation. We've already written about Todibo, Olise, Kone, and Thuram.