22 Year old Khephren Thuram has had a season to remember with OGC Nice in Ligue 1. Although they finished 9th, the son of legendary Lilian Thuram, and brother of Marcus Thuram, had a breakout year. The 6'4 midfielder saw his value rise from around $18 million to $34.5 million in just the 22/23 season alone according to TransferMarkt. As he comes into the summer, he is preparing for the U21 Euros with France which is just a few weeks away. The hope is that if he is going to get a transfer done, it will be before the season starts. There are many teams from the premier league that seem interested specifically Liverpool.
What type of player is he?
     Khephren Thuram is a 6'4 (192 m) defensive midfielder, but can play the 8 as well. What makes Thuram such an interesting prospect is his unique ability to be quick on his feet and dribble past his opponents, Last season in Ligue 1 he was one of the best 11% dribblers in the league. He is a dual threat in the 8 role, and any team that gets to have him would be gaining something special. The best pro player comparisons could be Patrick Viera and/or Yaya Toure. 
     Thuram is a player that hasn't been known for his direct attacking prowess. By this I mean he typically isn't the guy that is scoring or taking shots for whatever team he is playing for. Last season he had 2 goals, and 4 assists, in 35 games. However, Thuram thrives in chance creation and controlling the flow of the game shown by his 87% pass completion rate which puts him among the best in the league. He also had and xAssists total of 6.16 last season which shows he should have had more assist if not for his teammates lack of finishing. Finally, the strongest part of his game so far is his ability to dribble out the back and be the transition ignitor. Him being one of the best in the league allows him to be a strong asset for whatever team ends up signing him.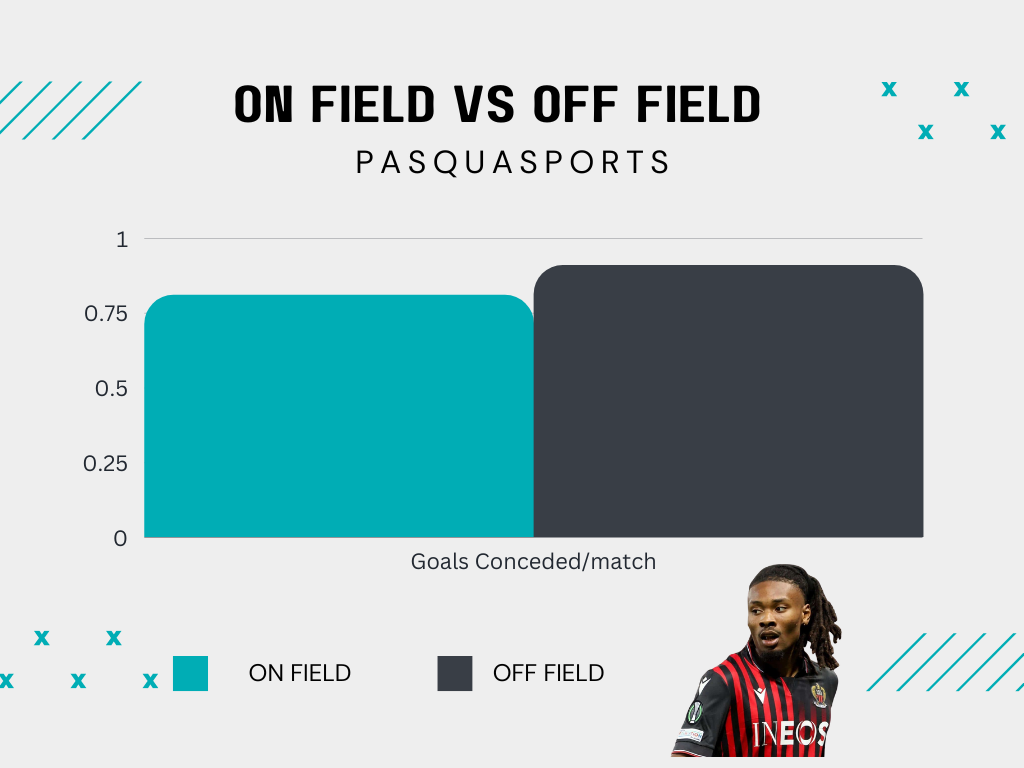 Thuram and his team were one of the two teams in both goals conceded and minutes per goal conceded. When Thuram was on the field they would concede 111′ minutes, and when he wasn't it would be every 93′ minutes. Considering he played around 80% of all available minutes, this shows that Thuram is a massive help to the defense, but why? He was particularly good at clogging up the center of the pitch with a blocked shot every two games, and 1.30 interceptions/game. There are some considerable weaknesses in his ground duels, and his aerial duels. He went into 258 ground duels this season, and only won 138 of them. He also struggled in the air with only 13 aerial duels won all season. Considering he is 6'4, it should be something that goes away with more experience.
All of the stats and evidence are corroborated by legitimate sources online. If you want to play around or check my work, go here. 
     Thuram is extremely talented, and whatever team gets him should be able to nurture him into a dominate player. It's important to watch out for his performances in the U21 Euros coming up to truly get a good feeling on how he plays. If Thuram is anything like his dad was, the world should get ready.